Spring 2022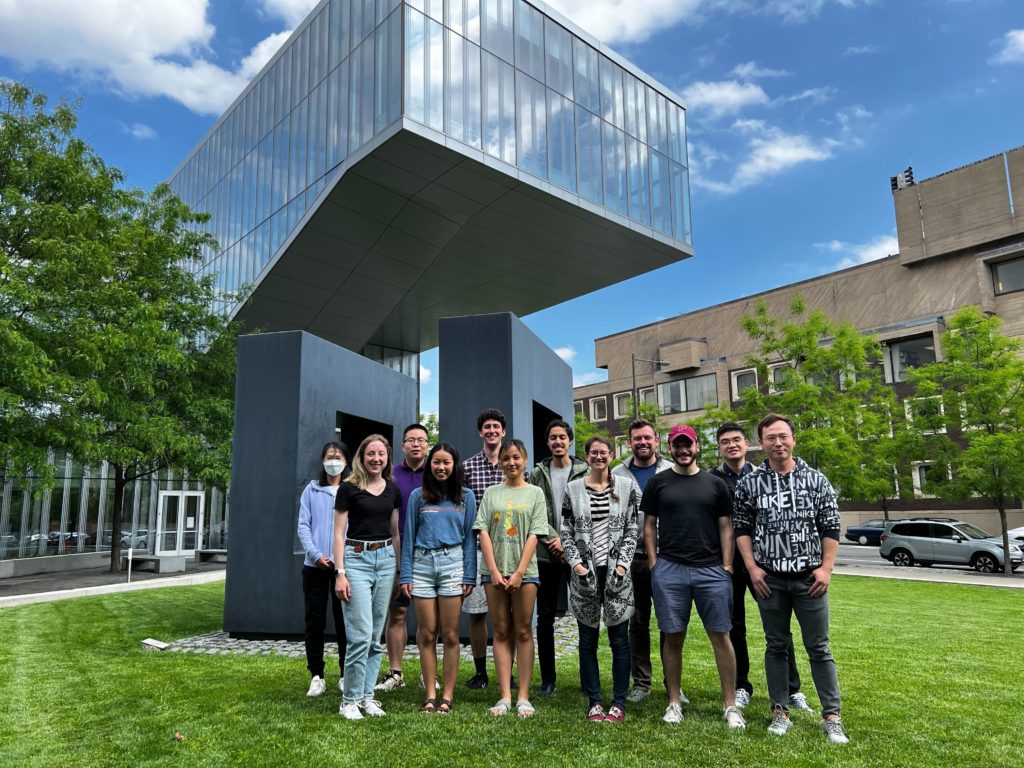 Fall 2020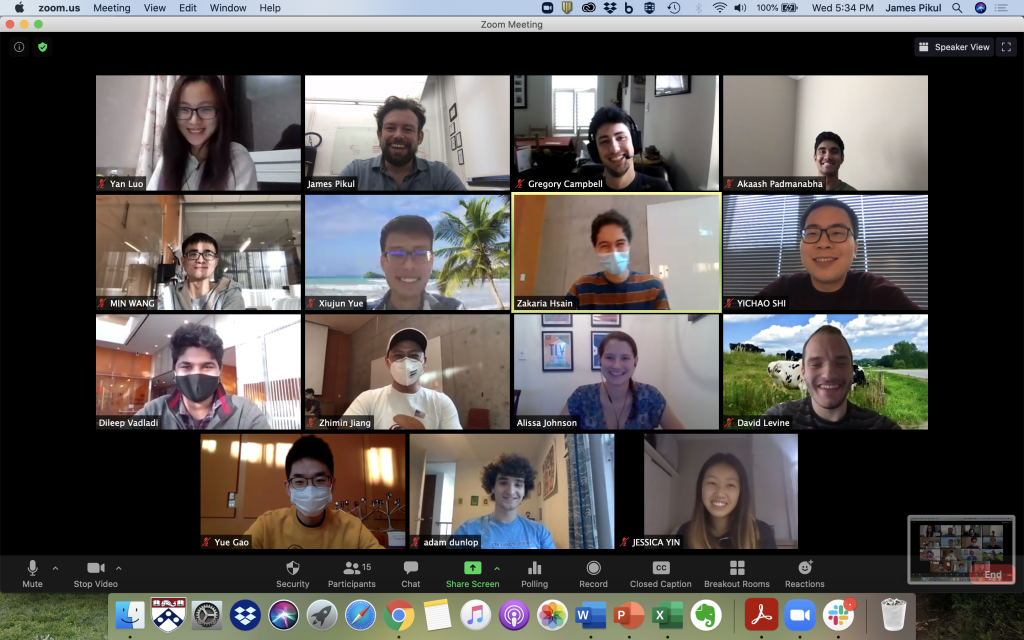 Spring 2019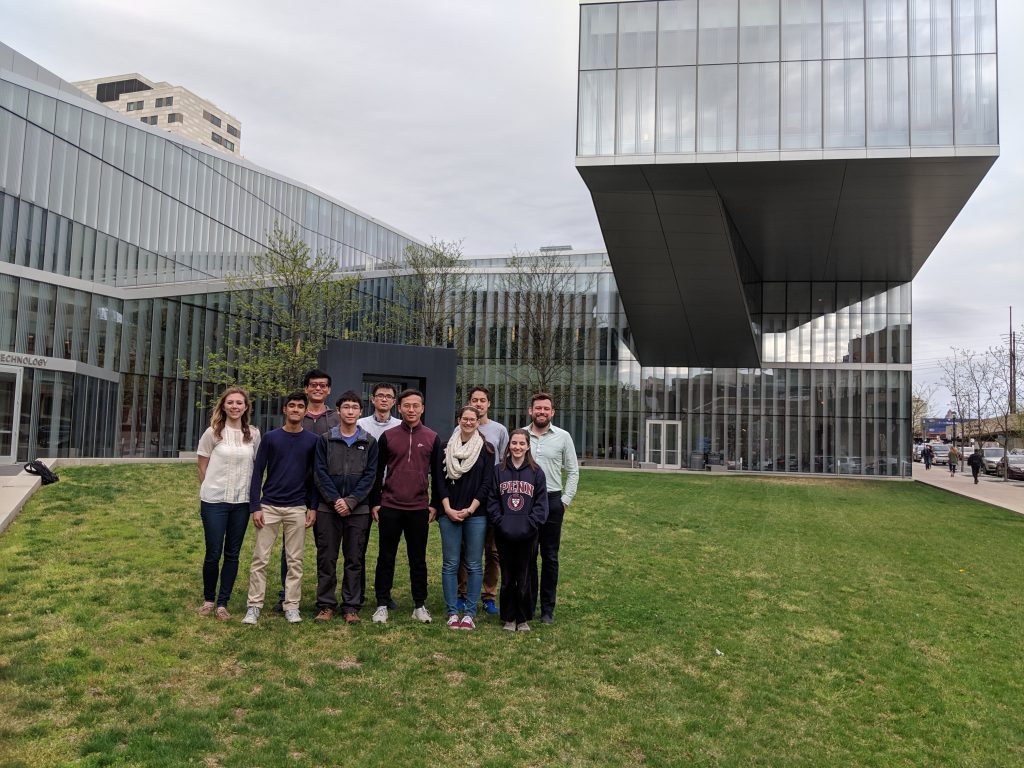 Pikul Group in front of our lab at the Singh Center for Nanotechnology.
Back (left to right): Dr. Xiujun Yue, Min Wang, Zakaria Hsain, Prof. James Pikul
Front (left to right): Jessica Grzyb, Akaash Padmanabha, Rafael Gehrke, Zhimin Jiang, Alissa Johnson, Miranda Cravetz
Fall 2017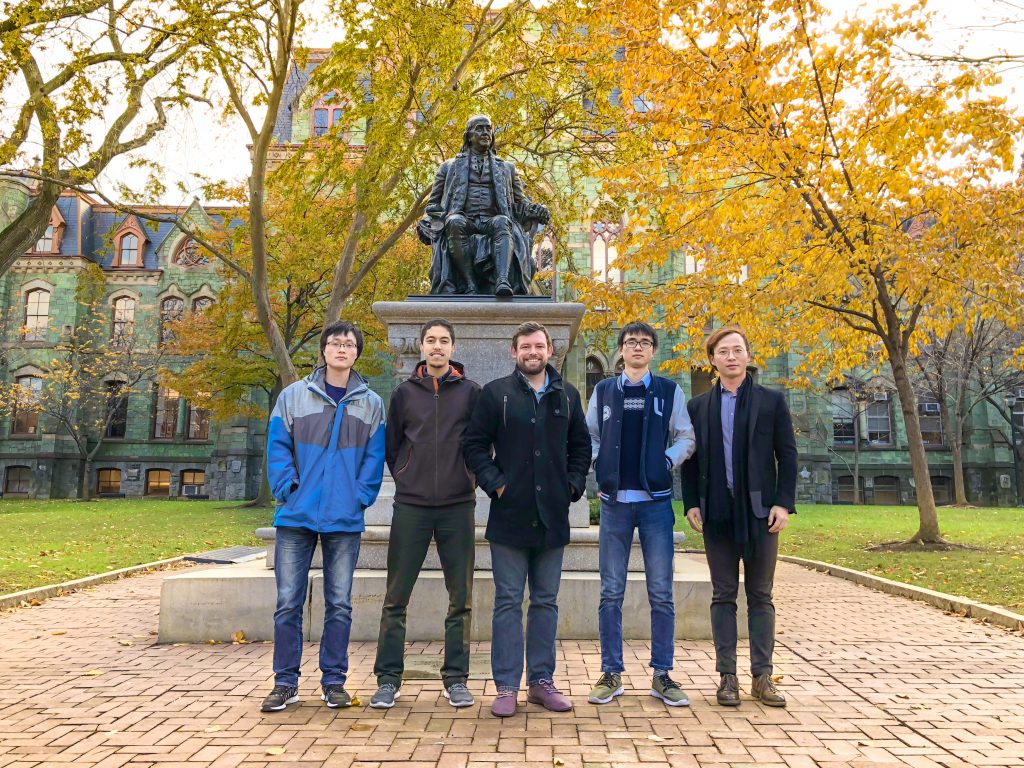 Assistant Professor
James Pikul is an Assistant Professor in the Department of Mechanical Engineering and Applied Mechanics at the University of Pennsylvania. James received his Ph.D. in Mechanical Engineering at the University of Illinois at Urbana-Champaign where he was a Department of Energy Office of Science Graduate Research Fellow working between the fields of mechanical engineering and materials science. He has won several awards in recognition of his contributions, including the Moore Inventor Fellowship, Office of Naval Research Young Investigator Award, NSF CAREER Award, Toyota Programmable System Innovation Fellowship, TMS Early Career Faculty Fellow Award, ASME Applied Mechanics Division Haythornthwaite Foundation Research Initiation Grant, Scialog Fellow for Advanced Energy Storage, Materials Research Society Gold Award, and the University of Illinois Carver Fellowship. His body of work has generated significant interest in the popular media, having been featured in BBC, Discovery News, National Geographic, Engadget, and many other outlets.

PhD candidate
Mechanical Engineering and Applied Mechanics zakaria@seas.upenn.edu
PhD candidate
Mechanical Engineering and Applied Mechanics zmjiang@seas.upenn.edu
PhD candidate
Mechanical Engineering and Applied Mechanics minyun@seas.upenn.edu
PhD candidate
Mechanical Engineering and Applied Mechanics aljo@seas.upenn.edu
PhD candidate
Mechanical Engineering and Applied Mechanics jessyin@seas.upenn.edu
PhD Candidate
Mechanical Engineering and Applied Mechanics djlev@seas.upenn.edu
PhD Candidate
Mechanical Engineering and Applied Mechanics gcampbel@seas.upenn.edu
PhD Candidate
Mechanical Engineering and Applied Mechanics yichaos@seas.upenn.edu
PhD Candidate
Mechanical Engineering and Applied Mechanics yanluo@seas.upenn.edu
Graduate Student
Mechanical Engineering and Applied Mechanics ryango@seas.upenn.edu
PhD Candidate
Materials Science and Engineering, eabeeman@seas.upenn.edu
Postdoctoral Associate
Mechanical Engineering and Applied Mechanics, muqing@seas.upenn.edu
Post-doctoral Alumni:
Xiujun Yue (Senior Scientist at SolidEnergy Systems)
Yue Gao (Professor, Department of Macromolecular Science, Fudan University)
Graduate Alumni:
Dileep Vadladi (MS – MSE), May '21 (Process Engineer at Applied Materials)
Jessica Grzyb (MS – CBE), December '19
Miranda Cravetz (MS – MEAM),  May '19
Unnati Joshi (MS – CBE), May '19
Undergraduate Alumni:
Adam Dunlop – Drexel Physics
Akaash Padmanabha – UPenn CBE VIPER
Victor Azumah – UPenn MEAM
Michael Sanchez – San Francisco State (LRSM REU)
Alyssa Lu – UPenn CBE
Micah Weitzman – UPenn MEAM
Matthew Yu – UPenn MEAM
Rafael Gehrke – UPenn MEAM
Thomas Mulroy – UPenn MEAM
Lisanne DeGroot – CMU (Singh REU)
Katrina Raichle – Ursinus (Singh REU)
Alexander Greer – Haverford